Tell us about yourself:
WMM the world's leading special interest Muaythai publication. WMM follows the ringside excitement with fight sports competitions, fighters and trainers at their gyms.

Muaythai is one of the most exciting stand up fighting arts in the world, devastatingly effective yet requiring tremendous discipline, dedication and respect to become a world class exponent.

This is why Muaythai with its striking is an ultimate spectator combat sport to showcase explosive, non-stop action throughout each bout.

WMM is geared towards a global audience who appreciate Muaythai and only Muaythai. The magazines unique editorial mission, design, production and photojournalism has received very positive support and readership that encourages our team to find you the stories and people we hope you want to hear about.

Muaythai Today...
Muaythai is a way of life and as a sport, new venues, fighters and spectators are evolving at a fast pace. The sport is revolutionary in many ways as its globalisation attracts a worldwide following and puts it on the path towards being recognised as an Olympic sport.

Muaythai is acknowledged to be the oldest known form of kickboxing. It's the primary building block of kickboxing, and a vital skill for mma fighters to have in their repertoire.

Muaythai is the national sport of Thailand and has become one of the most popular combat sports in the world today. This is also thanks to the rising popularity of mma - the fastest growing sport in the past 10 years.

The huge popularity of MMA has resounding benefits for Muaythai as a sport as it opened doors to new fans who otherwise wouldn't have known about Muaythai - Muaythai was bound to attract a new generation of viewers and fighters from many disciplines in combat sports, not to mention all sorts of business.

Muaythai continues to grow and there is only one way to go and that, my friends, is forward. The many governing and sanctioning bodies, the media and the professional community that all support Muaythai have been instrumental in bringing this amazing spectacle into our homes and arenas, firmly establishing Muaythai as a bonafide sport as it hits the mainstream.

More and more big-name events are being staged all over the world, regional competitions are increasing and popularity levels are at an all-time high for both male and female fighters, who now enjoy the lifestyle and stardom their skills and capabilities bring them.

"The road to the top will get more difficult to achieve. The next generation is already preparing. They will have a more diverse skill set - more ring and mma experience in cross training and as the game continues to evolve strategy will likely improve as well."

Endorsement deals, movies, books, TV shows and apparel brands are being born as we speak. New trends are shaping Muaythai and new generations are being introduced to the sport every day.

More competitions are providing our fighters with the opportunity to test their skills and ability. Spectators are increasing as they choose to be entertained by technically skilled fighting. For now, our trainers and fighters are preparing for the Queen's Cup Celebrations in Thailand.

The highly anticipated SportAccord Combat Games in Beijing follow with the World Championships in November. The jewel in the crown is the annual King's Cup, which attracts more than 300,000 spectators to the sport all over Thailand. The event is a magnet for the most celebrated fighters from around the world, invited to the special event held in honour of His Majesty, the King of Thailand's birthday on December 5, and showcasing the finest athletes from Muaythai today.

Our Journey...
In a unique way, my family and I have all shared life-changing experiences in Thailand and we are fortunate enough to cherish the many friends and riches of the amazing culture that have become our own. We all have come to hold at heart and care for the issues and overall outcomes facing Muaythai today.

For two decades, Thailand has remained close to the heart for my family, especially Jamie and my father. They both have lived life influenced by the culture and it's a part of our everyday life.

Jamie considers this sport as his life, he spent most of his life training and practicing. In the late 1980s I was ringside in Sydney, Australia where I watched Jamie first fight Muaythai in an interclub smoker. From there I have seen how Muaythai has been a part of shaping his life and how the sport developed from a mere underground movement to the popular sport it has come into today.

Jamie has put together a few words as he remembers:

"The club was the Phoenician in Sydney. I was fighting under Nick Stone from Bulldog Gym against Chris Deweaver, the Canadian Muaythai Champion at the time.

"I have deeply enjoyed training Muaythai over the years and have been fortune to mix it with some of the best fighters in Australia. Seeing the Muaythai community meet in Thailand every year at the IFMA World Games was a fantastic experience, definitely a highlight during all those years."

"I have also been blessed to share training with some of my teachers and a great inspiration came from Adam Watt. Many a hard session was done as a sparring partner in the early 1990s at his then Manly Gym. They were the toughest sessions I have ever done."

"I have great respect for Nick Stone, Stephan Fox, Harnarong (Nong) from WMC Samui, Paul Slowinski and Chris Allen. All these guys have been influential and definitely some of the best memories.

"Finally, Yuji Shigamori from Japan. He was my Japanese wrestling teacher for five years, another very tough customer in the shoot wrestling industry in his time … very tough fights and grading under his tuition.

"So don't just study Muaythai - Keep an open mind and learn how to battle on the ground as well."

*********

With James (our dad), he too has been there every step of the way, living his dream and finding both connection and happiness in the lifestyle as he follows Muaythai and the Thai ways. He is a regular with Jamie on all his tours, handles the curves balls from the boys and always brought us up participating with sport. As publisher of WMM, he enjoys his trips back to Thailand with WMM as circulation man and maintains our interests. He is affectionately known as 'Poppa' in Samui.

For me, the journey has been varied with Thailand and always a keen interest in fight sports, primarily Muaythai. In 1989, Alice (our mother) and I took to investing in a restaurant on Tamborine Mountain. It was a historic 1925 building and rich in red cedar.

We renovated and converted it to serve authentic Thai cuisine. We soon established a good local following. For 10 years, we prepared our own spice pastes on the premises. We bought bags of coconuts to prepare fresh milk and cream. Everything was fresh, everything authentic.

In 1992, with our chef in tow, Jamie, my then fiancée Lisa, Alice and I travelled to Thailand. Jamie was off in pursuit of Muaythai, learning about the culture and traditions. As we travelled, taking in the tastes of Thailand, from the central markets to the far north and down south to Phuket on a food safari, our love affair with Thailand was sealed.

In 1999, we sold the restaurant and Jamie, James, Louise (our sister) and I travelled together with the then Hammer Gym, on tour with a great bunch of fighters and followers. We arrived in BKK en route to Koh Samui. It was fun for all and we still talk about it as the best trip!

In the WMC Camp at that time, Jamie's mate Mike Haslam was there with Jackie Short, who fought and won at Chaweng Stadium. Stephan Fox was our tour coordinator and it was then that we first considered the offer to publish WMM. Muaythai was a far shot from enjoying the popularity it does today, so we did not pursuit the development at that time. Almost 10 years later, Jamie still holds Muaythai with great respect. In March 2008, we believed the timing was right and the idea to start WMM was conceived. By June 2008, we were in the marketplace with our first issue.

Since launching WMM we have covered stories and client campaigns and filled 612 pages, in print and through WMM online, reaching readers as we feature the sporting life in Muaythai from a wide range of content available.

Our pages are about representing the sport as we showcase Australian Muaythai today, mixed with international news, and stories about the sport from Thailand.

WMM as a brand has achieved a national and international presence as we represent the news from the industry and community for Muaythai.

We have reached our second year mark as we cover media in print and online for the sport. Our readers have become a new generation of Muaythai enthusiast, as we gear up to become a stronger voice for the sport.

Launching WMM has been a big job and we are nowhere near complete with our task. We are now set to increase and improve our services as we come through the rapid growth and prepare to position WMM with a greater market share. We now presents the world's leading, straightforward Muaythai magazine, which is our highest aim is to support the world of Muaythai.

Our Vision...
The purpose of this is to publicly present what we believe. In doing this, we aim to share the principles we are establishing for developing World Muaythai Magazine (WMM).

Advocacy has many forms. For WMM it is often an essential part of our development work. It also means working together with both business and the community to address underlying issues from regulation to sanctioning, industry developments and trends by influencing the decisions of governments, companies, groups and individuals whose policies or actions affect Muaythai as a global sport.

For WMM, representing Muaythai, we are motivated by ethical and faith principles simply to protect an asset of interest as we make sense of a very complicated industry and look to better the "what is" into a "what should be" for the sport today and its future.

The Muaythai industry continues to move forward with growth and acceptance as we define our direction and establish key alliances to continue our work. Since launching WMM in June 2008, we have been busy initiating activities and working towards boosting the profile of Women in Muaythai, Youth Reach and Development, Business 2 Business, Muaythai into Australian University Games, Muaythai Tourism and a host of other initiatives.

We intend to share best practice in favour of uniting the Muaythai industry and community with a vision. WMM aims to bring the world of Muaythai to life with an energy that represents the industry as we build our vision with "Fair Play, Peace and importantly, our Junior Sports Development!

We intend to guide athletes attracted to Muaythai for the traditions, values and respect that come with teaching and learning Muaythai as more and more followers embrace the sport to overcome the lifestyle and social challenges that face society today.

"Community and Industry together achieving a positive path for Muaythai"

Subscription world wide for World Muaythai Magazine :: Delivered to your door or read WMM Online Direct.






WMM #01, June 2008.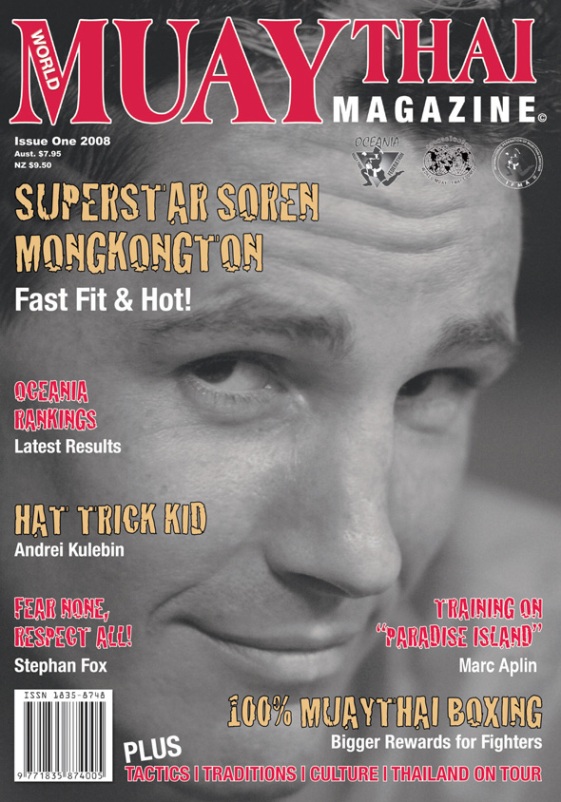 WMM #02, September 2008.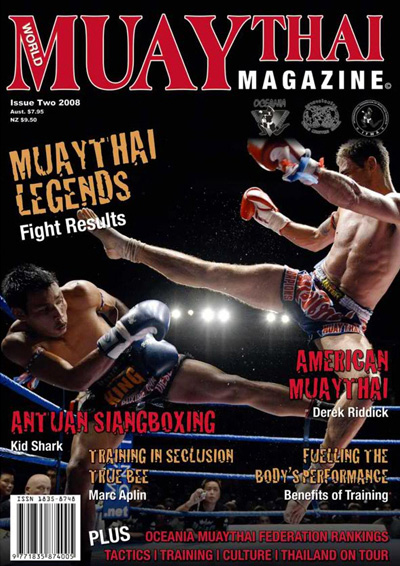 WMM #03, December 2008.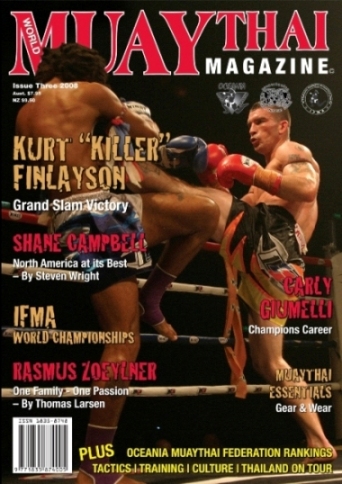 WMM #04, March 2009.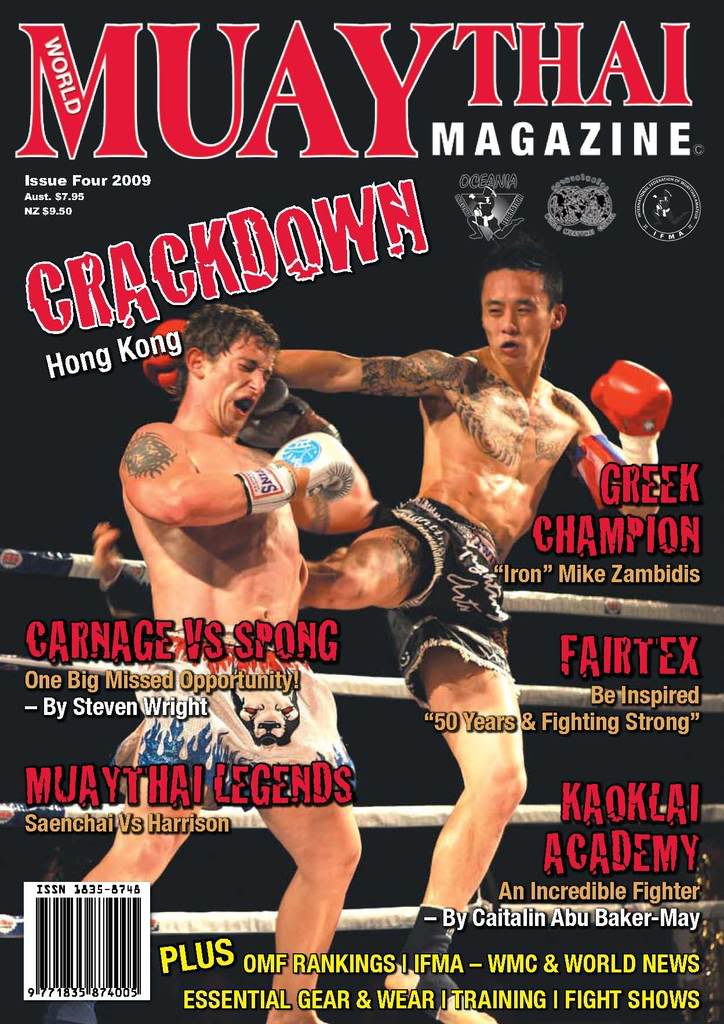 WMM #05, June 2009.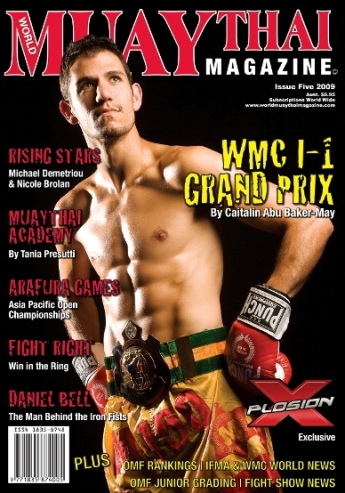 WMM #06, September 2009.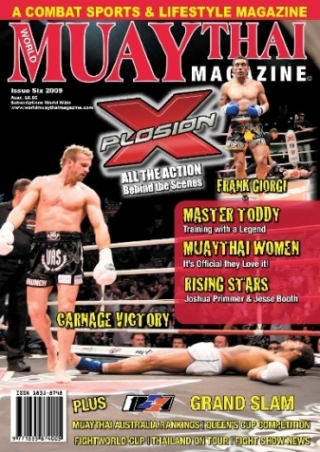 WMM #07, December 2009.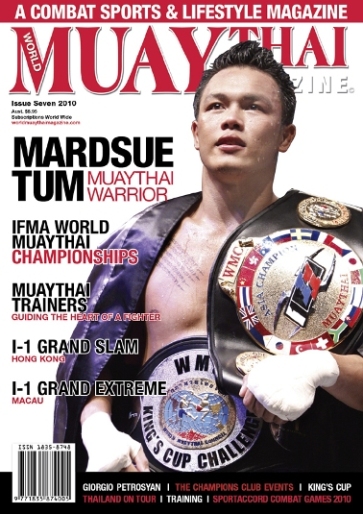 WMM #08, March 2010.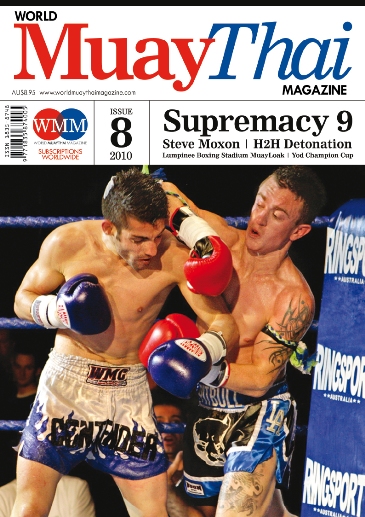 WMM #09, June 2010.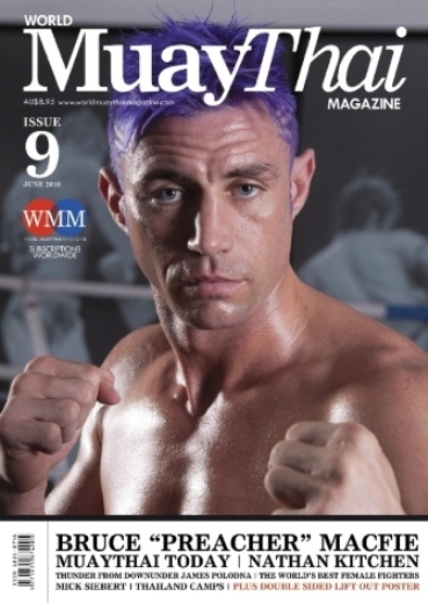 www.worldmuaythaimagazine.com